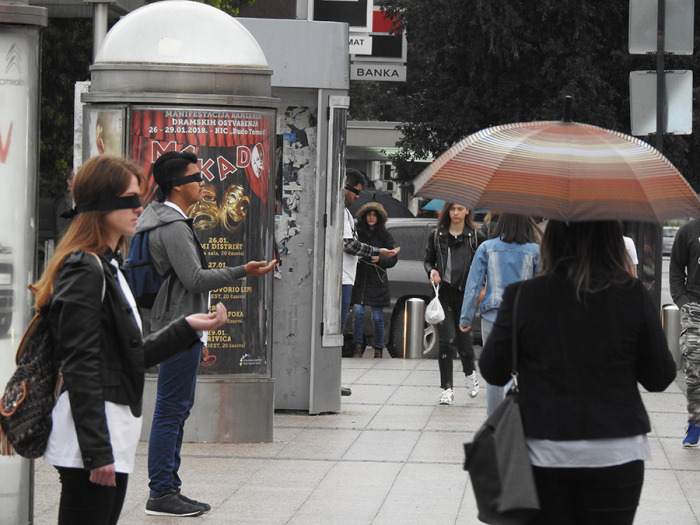 08 May

CHILDREN ON THE STREET IN DAILY DANGER OF BECOMING VICTIMS OF TRAFFICKING IN HUMAN BEINGS: A hand that needs more than a coin

The relevant international institutions assess every year that begging in Montenegro is the most widespread type of economic exploitation of children. This problem is mostly ignored in Montenegro

A young man of Roma nationality holds his hand to the drivers who stop at the crossroads. He stands with blank expression and a scotch tape over his mouth, leaving passers-by without reply.

Roma Youth Organization "Walk With Us – Phiren Amenca", has recently organized a performance in the centre of Podgorica, hoping that silence will produce the effect of a scream, which should raise awareness of the problem of child begging in Montenegro and its possible terrible consequences that are ignored.
"Some were indifferent, others stopped their cars to give them money, others tried to talk to the performers and get some information from them, and some were even ready to stand next to young activists and beg with them", Elvis Beriša, Director of this organization, told CIN-CG.
According to the United Nations, the European Commission and the US State Department, begging is the most widespread aspect of economic exploitation of children both in the region, and in Montenegro.
In their reports, these international institutions state that Montenegro is still a country of source, transit, and destination for men, women, and children subjected to sex trafficking and forced labour, and that children, mostly Roma, are forced to beg. By adopting the Convention on the Rights of the Child Montenegro committed itself to protecting and securing the rights of the child, and to ensuring that domestic laws do not allow the involvement of children in prostitution, pornography and forced labour, under any circumstances.
However, the situation is different in practice, and the impression is that neither Montenegrin institution nor the citizens care much about a great number of children who can be seen begging on the streets every day.
A report by Center for Democracy and Human Rights (CEDEM) and the Montenegrin Women's Lobby from last February highlights that a special problem is the lack of precise statistical data on the child begging, as well as the number of victims for whom it is very difficult to find a way out of a "vicious circle" of begging.
According to the data of the Office For Fight Against Trafficking In Human Beings, only one potential victim of trafficking in human beings – forced begging was placed at the Shelter for Victims of Trafficking in Human Beings in 2016.
The police administration previously announced that about 60 misdemeanour reports were filed last year for begging, most often against parents who force their children to beg. For almost a month, this administration ignored CIN-CG's request to provide us with an interlocutor on the subject of begging.
The shelter would be better than the centre for offenders
In an interview with the Center for Investigative Journalism of Montenegro (CIN-CG), Elvis Beriša says that, according to their findings, there is no organized begging in our country. So far, they have not received any answer from the police as to whether they have knowledge about organized begging. On the other hand, the Center for Social Work told them that most parents are luring their children into begging because of poor living conditions. During 2016 and at the beginning of 2017, Phiren Amenca identified 20 children on the territory of Podgorica, who regularly beg in the streets of the capital.
"We are sure there are more of them, especially on the coast during the summer season. The age of these children ranges from two to 17 years. The number of children living and working on the street is constantly increasing", Beriša said.
He pointed out that during 2017, when he spoke to Roma families and representatives of elementary schools in Podgorica, he found that more than 50 children were out of school. There is a fear that another 50 can leave school soon.
"They claim that the weakest link in the chain of school institutions is the Center for Social Work, which, according to their allegations, does not react adequately, and sometimes even not at all, and because of that children are still on the street", Beriša said.
He also estimates that the problem is in the lack of coordination of institutions to adequately address this phenomenon, insufficient sensitivity of most officers to deal with child begging, inadequate legal and legislative framework, and institutions waiting for someone else to do their job instead of them.
Also, the fact that institutions do not do much to prevent children from begging is an encouragement for them to stay on the streets.
"There are also stereotypes and prejudices about begging being the style and tradition of the lives of Roma", Beriša said.
According to him, this problem would be solved by establishing or securing a shelter where all children, victims of violence and street, would be taken care of and which would work simultaneously on the strengthening of their families. It often happens that a child caught in begging is placed in the Juvenile Centre with peers who are in conflict with law. When these children leave the Centre and go back to their families, they can be seen the same day on the street.
"Even workers in this Juvenile Centre say that these children do not belong in the Centre and that they do not have the possibilities and conditions to work with them", Beriša says.
Milić: You don't help them by giving them money
Jelena Milić, Co-ordinator of Defendology Center in Nikšić, told CIN-CG that children who live and work in the street are at high risk of becoming victims of trafficking. She points out that there have been three cases of sexual abuse of these children this year, and that the proceedings are ongoing.
"All these cases show that these children survive the most horrible forms of violence, torture, and that they are often beaten by both their families and citizens", she explained. According to their experience, these children most often belong to Roma and Egyptian community and are exposed to numerous forms of violence, with their families most often as their exploiters.
"Citizens should be aware that giving money to children does not help them. In fact, the money from begging is going to the hands of children's exploiters, often parents or guardians who are just using them", Milić explained to CIN-CG.
According to her, children are exposed to violence if they do not bring money. They also noticed that these children are often sent to seaside during the season, and that mostly people from the region come during summer, so the range of begging is expanding.
"All these kinds of exploitation that take place in coastal cities can be associated with trafficking,  because they are subject to abuse and forced labour, they do heavy jobs, carry bags in front of cafes, clean snow in winter from roofs for five Euros", Milić explains .
She says that girls are mostly vulnerable, multiple discriminated and in great danger of becoming victims of trafficking.
"These girls often survive the most terrible fate, abuse, and neglect. They do not choose their destiny, but it depends on others, usually their parents", Milić explains.
"There are also families that go from town to town and consider begging as their primary job. There was also a situation when they would pick up ten children in the van, and leave them at crossroads to beg. There are some cases where parents come after a few hours and explain that they sent children to the store and they got lost, but they actually left the children on the street to beg", the coordinator of the Centre said.
There are often situations with parents forcing children to bring them alcohol, cigarettes, fuel, and if they do not get enough money from begging they cannot come home.
"The repressive way of work is not always welcome and different methods have to be applied to some families in order to improve the situation", she said. She explains that these families are usually dysfunctional and these children often become perpetrators and victims of crimes.
She adds that the big problem is the abuse of babies.
"We suspect parents abuse babies, and even give them a variety of substances to keep them calm. It is illogical that a child sleeps all day", Milić pointed out.
Speaking of cooperation with the institutions, she stated that they had previously had problems with the centres for social work.
"It is most often the misunderstanding and the failure to accept that the problem exists. I cannot say that they will not cooperate, but they often deny this phenomenon or reduce its significance by claiming that a small number of children are involved, which does not correspond to reality. You see on a daily basis how many people are begging for money on the street, the problem is widespread to the extent that it is visible to every citizen", Milić said.
She explains that these children are often not in the registry of births, they are not beneficiaries of the social welfare, so the centres cannot help them. According to her, the cooperation between institutions and citizens must be on a much higher level. Much more attention has to be paid to children who live and work on the street, because it is one of the most vulnerable groups in Montenegro", Milić highlighted.
Both citizens and the institutions that should be dealing with it almost never report begging.
"Awareness-changing is a long-term process. There is not enough awareness of the harmfulness and problem of begging in our country", Milić concludes.
Instead of money – coupons
The Co-ordinator of Defendology Center believes that citizens who give money to beggars should be punished too.
"The prescribed regulation is very good, but there is one shortcoming. Every citizen who encourages children and their parents to stay in the street by giving them money should be punished", Milić explained.
The Center will try to participate with the Ministry of Labour in a project that would provide citizens with alternative ways to help, by enabling purchases of coupons, which would be used by beggars to get food and clothing in some organizations.
"Penal policy is very mild. The problem of begging is viewed through pity, which results in the sentences at the lower level than those prescribed for these acts", Milić pointed out.
The Law on Public Order and Peace stipulates penalties from 30 to 200 Euros for beggars. Charges against children and juveniles are not filed because they are treated as victims by the Convention on the Rights of the Child and other international acts. The Law on Public Peace and Order also provides for a prison sentence of 30 to 60 days for forcing a minor to beg, while the Criminal Code recognizes the begging of juvenile children through the criminal offenses of neglecting and abuse of a juvenile with a sentence of three to five years in prison and the trafficking in human beings with a three to ten years imprisonment.
First shower
The Defendology Center also deals with children who beg and their relatives through psychological counselling, trips, gatherings of creative workshops, visits to families.
In addition, they provide them with shower, haircuts, laundry, meals and various donations.
"There are cases where the child has never taken a shower, does not know how to use the shower, hair dryer etc", Milić said.
In Nikšić we have about 30 children who live and work on the street (although this number varies), of which 15 are permanently on the streets. About 90 users are coming to the Center almost daily", Milić said.
There are children aged 5 to 18 years in the Centre, but very often they bring their younger brothers and sisters too.
Maja BORIČIĆ