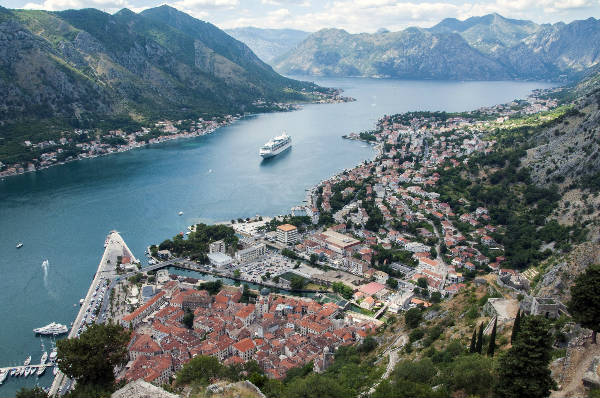 20 Mar

Cruise Ships Bring Profit But Harm Environment – Avarice Puts The Bay Of Kotor's Nature At Risk

The medieval fortified town of Kotor in Montenegro risks losing UNESCO world  heritage site ranking as the rivers of tourists gush out of cruise ships and flow through the gates of the old town. Environmentalists and experts sound alarm bells for the Bay of Kotor's delicate ecosystem.

Dusan Varda recalls strolling through the old town of Kotor one late autumn evening last year. "There was almost no one out except impeccably dressed waiters in empty luxurious restaurants – that was common perception of Kotor in off-season," he said, lamenting the new outfit of the old walled city and its Venetian palaces nestled in the Bay of Kotor, a unique fjord in this part of Europe. "I feel nostalgia for the old days Kotor, of 5, 10, 20 years ago," Varda said.

Kotor appears abandoned in off-season. However everything braces up for the spring and the summer when the cruise ships arrive, disgorging thousands of tourists. Each tourist spends on average €40 per day.

Mr Varda is director of the Mediterranean Centre for Environmental Monitoring (MedCEM) based in Montenegro's port city of Bar. He is concerned with the environmental situation in the bay. It's not just tourists who disembark from the cruise ships.

Even though Kotor's treasury is filled up with new revenues the environmentalists and field experts say that the authorities are blind to the side effects – noise, air and sea pollution.

Kotor ranks third in the Mediterranean when it comes to cruise ship visits. Only Venice and Dubrovnik are ahead of it. However, such influx of tourists drove out the local residents.

In the interviews for Balkan Investigative Reporting Network (BIRN) and the Centre for Investigative Journalism of Montenegro (CIN-CG) the concerned called upon authorities to urgently assess the environmental impact of cruise ships and regulate their traffic in the Bay of Kotor by restricting access to certain areas.

Western countries "realised their mistakes in tourism industry long time ago" and banned cruise ships from entering the protected areas, said Varda.

As something to start with, he said, Kotor should follow Dubrovnik's example. The authorities introduced quotas on cruise ships docking there.

"The problem in Montenegro is so called ad hoc tourism" he told BIRN & CIN-CG. "We cannot afford to sit and await the total collapse of natural and human resources in the area before taking action and imposing restrictions".

Monitoring is "insufficient"

Over the past five years, roughly 2,000 visits of cruise ships brought more than two million tourists to Kotor's medieval walls and ramparts.

Cruise-ship tourism accounts to some 2% of global tourism industry. Nonetheless, it has become far more important in Montenegro. In 2007, cruise ships accounted to 4% of tourism which quickly rose to 29% in 2016.

Nevertheless, the impact of those floating hotels, mega yachts and sailing boats on the Bay of Kotor (colloquially- Bocca) has never been properly studied- say experts of Kotor-based Institute of Marine Biology (IMB).

Vesna Macic, a senior scientific associate at the Institute, told BIRN & CIN-CG that the monitoring carried out by Montenegro's Environmental Protection Agency (EPA) was "insufficient". EPA replied BIRN & CIN-CG inquiry saying that "potential points of tension have been identified but no further analyses has been done". The agency's 2016 environmental report cited "possible sea pollution by waste water, solid waste, air pollution (primarily by acidifying agents) and noise". Cruise ships were listed among greatest threats due to enormous loads of fuel which could wreak havoc in case of accident. While the traffic is on the rise so is the danger of accidents.

The Port of Kotor reports that at times up to three cruise ships are docked in the port staying up to 12 hours each. The Ministry of Sustainable Development and Tourism (MORT) and the Regional Action Centre for Specially Protected Areas (RAC/SPA) commissioned a study on marine biodiversity of the area in 2014. The study considers the cruise ships in the Bay of Kotor a threat to its biodiversity. "Huge cruise ships in the bay affect fishing as they cut and destroy the fishing nets on their trajectories.The marine life is also at risk because of cleaning agents and waste water discharged from the ships" the study says. The study recommends further regulation of cruise ships in the bay and the zones of restriction where no ship anchoring is allowed.

Furthermore, they pose a threat to seabeds of flowering sea grass (Posidonia oceanica) and protected sea grass species such as Cymodocea nodosa which absorbs carbon dioxide.

Dobrota, a residential area on the city's outskirts, is recognised in the study as the only place in the bay with colonies of flowering sea grass and is home to Pinna nobilis, commonly known as the noble pen shell which is highly sensitive to pollution.

Strait of Verige links the inner Bay of Kotor with the open sea and contains rich seabed flora. European experts say that all human activity in the sea should be severely restricted in Dobrota and Strait of Verige.

Noise and air pollution

It is not only the sea that is at risk. Ross Klein, a Canada-based professor and cruise industry expert, says that one docking of a cruise ship releases more pollutants into the air than 2,000 cars and lorries in the whole year.

Marine mammals are especially vulnerable. ASCOBANS, an organisation involved in protection of small whales in the Baltics, the NE Atlantic, the Irish Sea and the North Sea, concluded in 2009 that low-frequency noise in the sea doubles every ten years, starting from 1950. Hearing is primary sense for orientation and communication of mammals.

A study in Croatia found out that some species of dolphin, disturbed by the noise of ships, spend less and less time in search for food and partners thus becoming more recluse. A similar study "should be commissioned for the Bay of Kotor asap," said Macic, "because the underwater noise has intensified and become more frequent".

Organic, non-organic and solid waste discharged from cruise ships is another problem.

The US Environmental Agency estimates that each passenger produces from 2.6 to 3.5 kg of waste every day. The waste stored on cruise ships contains a hazardous mix of cleaning agents, paint and medical waste. Its discharge is prohibited in the Mediterranean within 15 nautical miles from the shore. Nevertheless experts warn about difficult enforcement of the regulation. The problem becomes worse in the summer months when the sea temperatures are high, winds are low and water circulation slows down. Furthermore the coastal populations grow exponentially.

Invasive species

Ballast water is seen as another threat to marine ecosystems. In 2013, the Geneva-based International Maritime Organisation (IMO) recognised the impact of ballast water used by big ships to maintain stability, as an environmental threat on the global level. Biologists warn that a cubic meter of ballast water sucked in one port and discharged in another – may contain up to 10,000 sea organisms.

A study made in 2006 in neighbouring Croatia found out that around 2.5 million tons of ballast water were discharged into the sea, introducing 113 new species of sea organisms into the local ecosystem. Certain invasive species multiply without control, suppressing and destroying the autochthonous species. In Croatia, the intruders include the red algae, which is particularly harmful to the Adriatic's biodiversity.

No assessment of the impact of ballast water has ever been done in Montenegro.The Environmental Protection Agency said it expected new analyses about the ballast water in Montenegro's part of the Adriatic.

UNESCO has warned that  "a large number" of cruise and freight ships in the Kotor area is putting at risk the city's credentials as a world heritage site. The site covers not just the medieval town but the nature and landscapes around too.

"It's not possible to maintain a balance between mass tourism and environmental protection" said Varda."One must subjugate the other. Unfortunately, there is a growing fascination with mass tourism and growing [tourism] figures in Montenegro, while nobody mentions the long-term quality and sustainability of the said tourism."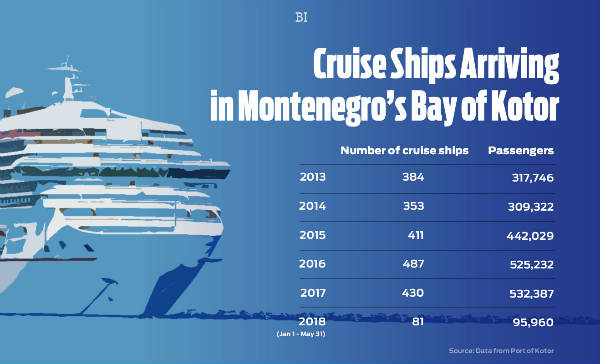 (Un)protected marine areas
Montenegro is one of a few Mediterranean countries without a single protected marine area. Chapter 27 of the European Union accession talks mandates the existence of at least one.
"For decades, protected marine areas have been recognised across the world as the most efficient way to preserve the marine ecosystems" Varda said. EPA says it plans to establish one protected zone through a project launched last year worth almost $1.8 million. "Preparations are under way for almost a decade" said Varda.
"Given the current planning, in less than three years we hope to have the first marine protected area established in the vicinity of Katic, an island off the shore of Petrovac, from Platamuni towards the Bay of Traste, in the areas of Ratac and Zukotrlica, Stari Ulcinj and Valdanos".
Floating palace
The largest cruise ships that have docked in the Bay of Kotor are the Majestic Princess and the Royal Princess, each 330 metres long and accommodating 3,500 passengers and 1,500 crew members.
The Port of Kotor records visits throughout the year, not only in the summer months. The cruise ships Regina della Pace, Artemis and Athens traditionally open cruising season in the Bay of Kotor in early January, and close it on or around New Year's Eve.
Few complaints
Despite heavy traffic in the bay, only four complaints have been lodged to the Maritime Safety Authority in regard to cruise ships in the Bay of Kotor. The objections are related to pollution.
BIRN & CIN-CG tried to find out from the authorities if any cruise ship has ever faced sanctions during its stay in the bay and the grounds thereof.  The Port of Kotor, the Safety and Security Inspection of Kotor and the Ministry of Transport and Maritime Affairs simply ignored our inquiry.
Matija OTAŠEVIĆ