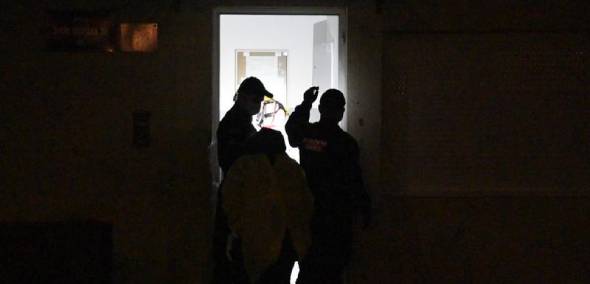 12 Nov

PERSONAL ENCOUNTER WITH COVID-19 IN A RE SETTLEMENT: I WANT TO BE NEGATIVE

A few days before it was discovered that one person from Vrela Ribnicka settlement was infected, a team of journalists was at his home, trying to illustrate the poverty and troubles of members of the RE population in this area. Now they are also in suspense and undergoing testing

Scenes from the home of B.B, the first person from Roma and Egyptians (RE) community infected with COVID-19, are constantly before my eyes. It's as if some internal defense system is trying to eliminate, or at least alleviate, the restlessness that has gripped me as I return from the Institute of Public Health, where I was tested for the corona virus. The countdown begins until the phone rings from the Institute and a voice announces…

In the most unpleasant way I realize what uncertainty means. For the first time in my life, I want someone to tell me that I am – negative.

A few days ago I went with a colleague to make a story about 39-year-old B. B. his life problems and to make the public aware of it. Bitter images of poverty etched in my memory, as if trying to suppress internal beats that measure the distance to an extremely important phone call. Images of the sad look of a man crying out for help to feed eleven children, confession on meals from the national kitchen, which somewhat quenched their hunger. He does not receive social assistance. Now even if he wanted to, he has nowhere to make money, because everything has stopped, or is forbidden.

The announcement of the Institute of Public Health of Montenegro that one person in Vrela Ribnicka was infected with the new COVID-19 virus reminded me of an interview I did, as it is said, "in order to raise awareness of the existential problems of the RE community", documenting the troubles faced by BB (39) and his large family. After a brief check, my anxieties were confirmed.

Aware of the seriousness, I called 1616 and reported that I had been in contact with an infected person. The doctor, whose name I did not remember, because various thoughts were swarming through my head, started questioning me. I gave personal information, then explained how I felt, if I had any of the symptoms that indicate a virus infection. I didn't have any.

We spoke for about ten minutes. The doctor tried to calm me down, advised me to start self-isolation immediately, and told me that someone from the Institute of Public Health would call me soon to explain me the next steps. I called a colleague who was with me at the home of B.B. and advised him to schedule testing. An hour before midnight, a "Dr. Tony" called and told me to come tomorrow at two in the afternoon. After that call, I couldn't sleep a wink. 

The images started to swarm through my head again. A woman with a baby in her arms showing empty kitchen cabinets while begging to be photographed. She opens the fridge and shows us inside of it – it is empty. The sight of tiny children huddled next to each other on the couch in the living room, watching the black screen of the TV, hoping that our arrival will help them get electricity. The caring words of B.B. while with tears in his eyes he talks about the eleventh child, who was hospitalized in BIjelo Polje, because he suffers from cerebral paralysis still echoes in my mind.

After leaving the apartment, the neighbors besieged us. They wanted to know if we had come to provide any help. Trying to outvote each other, they describe their troubles, explaining us that their torment is similar to that of our host. They can't work for days and they are afraid.

We explain that we are working on informing the public and the authorities about their problems and that we hope they will take some actions. We are explaining what we have achieved so far, since the beginning of the pandemic, organized in the United Movement of Roma and Egyptians (UMRE), as well as what initiatives we have also launched.

I live in that neighborhood with my family and they know me. I shared the same fear of future developments in the Roma community, the most disadvantaged in Montenegrin society. Since the signing of the Decade of Roma Inclusion 2005-2015, and later with the adoption of the Strategy for Social Inclusion of Roma and Egyptians, the authorities have been sending a message to the international community to work on social inclusion. A narrative has been created in the general public that everything is given to the Roma community. Everything that has been happening in recent days related to the pandemic, the investigations that have been published in the media, the conditions in which the Roma community lives without electricity and water, are painfully denied by the praise-filled reports submitted to Brussels.

From the nightmares, unrest and images of misery for which words are missing, the question arises: How is it possible that, despite millions of foreign and domestic funds in the last ten years, the Roma community still struggles for bare survival?

I get home, log in portals, websites and social networks with my journalistic routine and I get anxious again because of the comments there. As a member of this society, I try to contribute to democratization by working but at the same time I refuse to believe that in the 21st century there are those among us who are looking forward to the situation that has affected the Roma and Egyptian communities.

There always seems to be something worse, even from illness and poverty.

RE people especially affected by the prejudices on social networks

– Fear spread over the settlement on Vrela Ribnicka. Given that B.B. has many children, other tenants of the building, but also neighbors worry what could a children's play in the previous days have caused – Marijeta Jašaraj, one of the participants in training for journalists, organized by the Center for Investigative Journalism of Montenegro (CIN-CG) within the project for strengthening the employability of the RE population, describes.

Her husband was with Serdjan Baftijari at BB on a journalistic assignment.

– He's a journalist and a cameraman. He visited disadvantaged families together with his colleague. About ten days ago, he had a contact with an infected person. He had a mask, gloves and he respected the social distance, but we were still scared, especially because of our baby. The husband called 1616 and he reported the contact, after which he received isolation instructions and was tested. Fortunately, the test was negative – Marijeta says.

Although it is not yet known how he became infected, she believes that the main reason is poverty, because the infected man had to go out and try to make a few bucks in order to feed his family.

– Empathy, understanding and skilled doctors are what is needed now. The RomaNet portal wrote that the sick person called an ambulance, but they reacted only three days later when the neighbors alerted the police, that patrolled the neighborhood, she says.

This part remained unclear, because at first the questions of TV Vijesti about it at the press conference remained unanswered. Later a written announcement from the Institute of Public Health arrived explaining that the infected B.B. in a conversation with epidemiologists did not mention that he had called the emergency medical service.

– Although she lives 400 meters away from B.B. Elhana Baftijari is also concerned.

We are concerned, because it seems to me that the people who live in this neighborhood have not yet comprehended the seriousness of the situation. Both adults and children are out in large numbers, instead of staying at home – Elhana says.

Elvis Januzi believes many residents became aware of the situation only after the first case of infection appeared in the settlement.

Before the first case, members of the RE population living in the camp number one gathered regardless of the bans and go home only when an inspection or police arrived – Januzi says.

Nardi Ahmetović, a young activist from Niksic and also a participant in the CIN-CG training, says that he was very affected by the first comments on social networks. He was also afraid of how the situation would develop.

"Prejudices from Facebook worry me a lot," Ahmetovic says.

Elvis Berisha: Both the government and we have been doing the wrong thing

Now that a case of infection has emerged in the Roma community, it is estimated that the virus will spread significantly faster due to lifestyle, large number of household members, frequent visits to relatives, mobility within the community and cramped facilities – Elvis Berisha, the well-known Roma activist, says in an article for CIN-CG. 

– The UMRE Civic Initiative, consisting of 70 activists from the Roma and Egyptian communities, is actively working to inform the community about the symptoms of the virus and protection measures, but also about the measures of the Government and the National Coordination Body (NCB). We are also working hard to find funds to provide food and hygiene aid packages for vulnerable families.

In cooperation with Help and with the support of the European Union, we managed to provide 600 packages for about 400 families in Herceg Novi, Niksic, Berane and Bjelo Polje. We invite other actors, especially the Roma Council, to get involved.

Most of the Roma community makes money by collecting secondary raw materials, selling at a flea market and working in the gray zone. Now, almost no family can make a living, because of the lockdown so they can't provide money for food. Families that are formally registered to be in social need received 50 Euros each from the Government. However, those who do not have a resolved legal status in Montenegro or any income call us on a daily basis, and they are in the most difficult position. 

I fully respect the temporary measures introduced by the Government to prevent the spread of the new corona virus. However, since I am very familiar with the bad situation in the settlements inhabited by the Roma and Egyptian communities in Montenegro, I claim that they cannot be implemented. An additional aid is necessary, in order to enable adequate protection: masks, gloves, disinfectants and especially food aid packages.

We cannot ask a community that has been affected by the poverty virus for years to stay at home, if we know that they do not even have a meal a day. It is necessary for the Government and the Institute of Public Health to translate all the measures and information they publish into Romani in order for this community to understand and respect them.

So far, we have not received a straight answer from the Government for any of the proposed measures. In cooperation with the Red Cross, we are making a list of the most disadvantaged families who need urgent help, but there is still no answer from the Government whether it will provide funds for everyone who needs food. Everything that has been distributed so far has been done thanks to donations from NGOs and individuals. To our knowledge, the Government has not provided any aid packages and that has to be changed. So far, we have informed close to 40,000 people through an online campaign in Romani and Albanian about corona virus protection measures.

With the first case of infection in a Roma settlement, the National Coordination Body (NCB) is considering whether to extend the isolation measures from one building to the entire neighborhood. On behalf of UMRE, we also proposed that a representative of the Roma community be included in the NCB, for a more efficient analysis, but we did not receive a response of any kind.

We are aware of the difficult situation, but in addition to these increasingly strict measures, we expect that in the coming period, families will be in an even more unenviable situation.

Therefore, anti-epidemic measures introduced by the Government of Montenegro, although necessary, may trigger a social crisis that will lead to further spread and deepening of poverty.

Given that the Government of Montenegro is the majority owner of Electric Power Industry of Montenegro, we ask:
to reduce the current price by 30 percent to all citizens, in the next three months (from April 1);

to postpone paying the electricity bills for the duration of the current measures – except for those who have the opportunity and want to do so on a regular basis;

not to disconnect network customers while measures are in force;

local governments to provide access to water to all citizens in the next three months and reduce prices by 50 percent.
We also call on telecommunications and cable operators to demonstrate social responsibility by lowering prices, or approving payments in installments of debt incurred during anti-epidemic measures.
Many families ask us for help when it comes to online learning. There are families that have no smart phones, so they have no insight in instructions and tasks children are given from the teachers. In families where only one parent has a mobile phone, and he works in utility company, children also do not have the opportunities to attend online classes or do homework until he returns from work. There are also families with more school-age children who only have one mobile phone.
After everything that happened, I can conclude that we from the civil society organizations, as well as the Government, have been doing things wrong in the previous ten years. Once the epidemic is over, we must focus on providing all Roma settlements with infrastructure, access to water, electricity and basic living conditions. Without that, we cannot expect progress in any field of life, least of all in education – Berisha concludes.