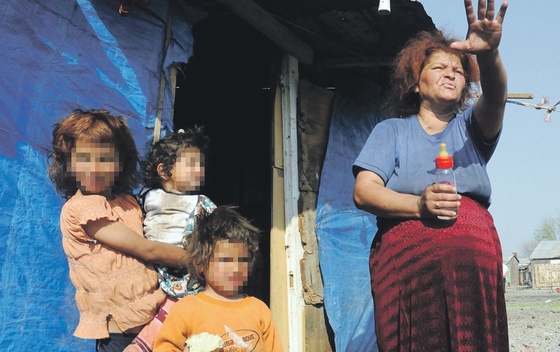 10 Mar

Selling of children – business carried out under the veil of tradition

Young Roma activist Fana Delija, her family and colleagues face serious problems in their community while they are fighting for human and child rights.

I was physically attacked three times. "My colleague was stoned in her own house. My brother was injured in the head. But these are the risks we have counted on", Fana told Centre for Investigative Journalism of Montenegro (CIN-CG).

She is a director of the NGO Center for Roma Initiatives (CRI) who has been fighting a long-standing battle against child and early marriages in the Roma community.

Under the veil of tradition, a trafficking in human beings (children) takes place in Roma community.

According to the CRI, about 60 cases of early marriage were registered in Montenegro in the last five years.

In the last two years, 49 cases have been reported to the police, but none of them was prosecuted. Mediators who are helping Roma children in elementary schools have recently complained to CIN-CG that two girls in Podgorica left school in order to get married.

The Roma National Council, an official institution for the Roma issues, denies these claims.

They state that the trafficking of girls and the arrangement of early marriages have been eradicated in recent years and that it is not happening anymore.

Aida Petrović, a Director of the Montenegrin Women's Lobby and coordinator of the National Shelter for Victims of Trafficking, told CIN-CG that in the last five years they have been continuously providing assistance, support and care for the girls of the Roma population who were victims of early and contracted child marriages, begging and family violence.

From 2015 to August 2017, nine potential victims of forced marriage were staying in the Shelter. These were girls from Montenegro, Serbia and Kosovo.

"The victims of contracted child marriages are between 11 and 14 years old. In Roma camps, boys aged 13 to 14 are also victims of early marriage and contracted child marriage", Petrović explained to CIN-CG.

She stated that child marriages are common in this population.

"This can by no means be accepted and regarded as common in the Roma population. Early marriage and contracted child marriage are forms of trafficking in human beings whose perpetrators should be subject to sanctions of national legislation", she said.

According to Petrovic, neither Montenegrin Women's Lobby nor other organizations have the exact number of children's contracted marriages, because there is no single database.

"Although the number of unregistered members of the Roma population is significantly reduced, there are still those who do not have any documentation, and such children "do not exist" in the institutional system. That is why many early arranged child marriages cannot be recorded, Petrovic explained to CIN-CG.

She explained that even when a case is discovered, often parents or relatives put the blame on girls, saying that they "run away from home because they fell in love" and that they could not have prevented them.

"There is a number of girls who come from nearby countries (Kosovo, Serbia, Macedonia, Albania) illegally or with an excuse to go with their parents to visit their relatives in Montenegro. In reality, they are going in order to get married. Such agreements are made by families usually via the Internet, or by phone", Petrović pointed out.

In the same way, Petrovic adds, a number of girls from Montenegro go to other countries where they marry according to the already agreed scenario of parents of the two families.

"Most often, these girls are taken away by their parents to marry in Germany, Italy, Austria, as well as in the neighboring countries such as Kosovo, Serbia, Macedonia, Albania etc", adds the director of the Montenegrin Women's Lobby.

Forced marriages are designated as the criminal offense of trafficking in human beings according to Amendments to the Criminal Code of 2013.

Marriage is forbidden to those under 16 years of age. Minors can marry after age 16, with the consent of their parents.

According to the last census, there are 8,305 members of Roma population in Montenegro, half of which are women.

According to United Nations (UN), around 140 million girls will be married by 2020, of which 50 million will be girls under the age of 15. A survey conducted by the CRI in 2014 showed that even 72.4 percent of the Roma population in Montenegro get married from 12 to 18 years of age.

CIN-CG previously reported that in the last three years Montenegro has not issued any final verdict for trafficking in human beings, and in the same period only one case of trafficking related to sexual exploitation has been processed.

The director of CRI points out that both ones who sell young girls and those who take money when arranging these marriages should be punished.

"It is worrying that in the process of the investigation carried out by the state prosecutor and the police, there is not enough material evidence on the basis of which the competent prosecutor would initiate criminal proceedings", Delija says.

According to her, it is particularly worrying that after denying the contracted marriage, all the girls were returned to their parents who are perpetrators of the crime, mostly without any further supervision.

According to the Family Law, such families would have to be supervised by the Center for Social Work.

"According to the information we have, in two cases, this measure was carried out by the competent centers for social work", the director of CRI said.

Goran Kuševija, Director General of the Directorate for Social Welfare and Child Care at the Ministry of Labor and Social Welfare, did not answer the question of CIN-CG whether the centers for social work carry out the necessary supervision of families suspected of selling their children for contracting marriages.

The elderly do not see the problem

Unlike young activists, the Roma National Council claims that the problem does not exist. They also strongly dismiss the unofficial criticism that heads of this umbrella organization have arranged marriages in their families, and that even the president of the Council Isen Gasi is involved in this matter.

"We will report every similar case. I cannot command anyone, but it has been two or three years that I have not heard that such thing happened, and nothing can happen without my knowledge", Gasi said in a conversation with CIN-CG journalist.

When asked how he deals with that phenomenon, he said that he always "says at funerals that arranged marriages should not be done".

Gasi said that the organization he runs has a monthly budget of about 4,000 Euros, which does not make it enough money to organize trainings and workshops on this topic.

"We are against all forms of violence that endanger and limit the freedom of Roma women, but we also advocate the resolution of these problems within institutions, through judicial and legislative authorities. The Roma Council condemns every form of arranged early marriages. We believe that the competent institutions should act repressively on such and similar phenomena", the Council says.

When asked by CIN-CG to comment on the accusations coming from their population that members of the Council have contracted marriages in their families, the Council responds that "every member of the Council is completely autonomous, and has the right to their personal choice, attitude and way of life as an individual".

At the same time, they stood in defense of their president, who "enjoys respect by the whole Roma community in Montenegro, which is confirmed by the fact that this is his third presidential term".

"The entire Roma population in Montenegro believes that Isen Gasi is the only Roma leader to protect the interests of his community. The President of the Roma Council uses every opportunity to point out to his compatriots that it is necessary to accept new civilization values ​​and reject all negative segments of the tradition. Unfortunately, it is evident that no community can easily give up their customs and traditions", the Council concludes.

Zoran Ulama, Head of the National Anti-Trafficking Office, says that it is necessary to put more effort into raising awareness, that the tradition should be respected, but not at any cost.

"The poor or non-existing education among the population is a problem. They don't consider it a trafficking, although it concerns minors. It should be clear to everyone that it is a criminal offense", Ulama stressed.

According to Ulama, despite the lack of cases which are processed, there is a growing number of cases which are reported. This suggests that awareness is raised about this issue.

Even after numerous insisting by the CIN-CG, we did not receive answers to questions from the police about arranged child marriages and the fact that reported cases mostly end up at their address and without an epilogue.

Virginity is on sale

Fana Delija, Director of CRI, explains that a narrow and wider family, neighbors, or reputable male members of the community and family gather when a contracted marriage is arranged.

"Then it is checked whether the girl is a virgin. The girl's father guarantees that she is a virgin, arranges for a certain amount of money and the purchase of gold and clothes. Then they agree on the date of marriage", Delija explains.

She adds that the amounts increase based on the social status of girls in the community and the fact that they are virgins. She claims that social status and virginity are valued from 500 Euros to several thousand Euros.

Victims of early marriages raising their own children in the spirit of tradition

According to a survey conducted by the CRI in 2014, as many as 72.4 percent of the Roma population get married between 12 and 18 years of age. Early interrupted childhood caused by marriage, illiteracy, poverty and survival, unconditional obedience to everybody in the groom's house, suffering of various forms of violence, burden of family and housework, desire to meet patriarchal expectations in the role of housewives and mothers, are some of the burdens imposed on underage girls who are victims of early contracted marriages.

Aida Petrovic explains that the problem is that victims of early contracted marriages raise their female children in the spirit of tradition. She also adds that the Shelter's protégées, among other things, have poorer health and often chronic illnesses, look much older than they are, and die much earlier because of their hard life.

"The joint work of institutions and the civil sector dealing with this problem, as well as the implementation of institutional mechanisms aimed at combating contracted child marriages, begging, violence, and increased level of education of Roma girls, can give them a good starting point to live their lives in a way that is worthy of every human being", Petrović concluded.